FOR ACTIVE STABILIZATION AND TARGETED PAIN RELIEF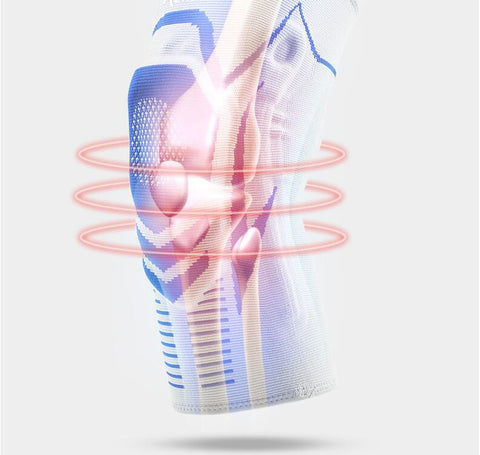 Rise above the challenges and take back control with new-and-improved Power Bend Shock Active Knee Support! Provides secure support for mild instability and relieves knee pain and swelling.
Premium Quality: Our Compression Knee sleeve is manufactured to provide superior support, comfort, and relief without compromising your mobility. Comfortable, lightweight, breathable knit will not retain heat for high wearing comfort, flexibility, and ultra-durability. Elastic Knit form to shape knee and leg. 
Silicone Pad : pain-relieving pad encases the kneecap and provides targeted massage
leaving the kneecap (patella) pressure-free and provides intermittent compression aiding in the resorption of swelling and edema, and improving blood circulation and recovery. 
Stabilizing Effect: provides the best grip so you won't have to readjust it during gym time, squats, weightlifting, yoga & dance, marathons, fitness or gymnastics. It doesn't roll, slide or slip down. Stabilizes muscles and improves joint stability and performance, reduces stress, a risk of injury and recovery time.
POWER BEND helps you TAKE BACK CONTROL!
Power Bend has taken the time to develop and combined the newest technology with highest quality materials to produce the ultimate Shock Active Gel Padded Knee Compression Sleeve for men and women. Created at the highest standards in the industry, the Knee Sleeve is designed to increase circulation, thus aiding in the resorption of swelling and edema and speeding up the recovery process. Offering all-around superior protection and support above and beyond what you've experienced before! 
----------------------------------FEATURES----------------------------------------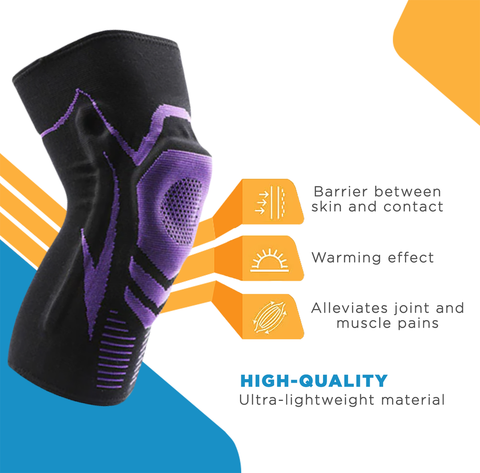 3D Knitting Technology
Special knitted design with 3D technology covering knee to avoid window edema, yet keeps pressure off the knee cap. Ultra-Lightweight, the sleeve offers a precise fit for all-day comfort, flexibility, breathability and ultra-durability.Fabric gives you a smooth and soft touch feel all day and all night long!
Reduce Stress and Injury Risk
Designed to Increase your performance while ensuring you're a step ahead in injury prevention. The anatomically contoured pad surrounds the kneecap, dispersing pressure. When the knee moves, the pad and the knitted fabric massage the connective tissue and the muscles.
Two pressure points and lateral wings deliver targeted stimuli, triggering positive sensory motor feedback. The stabilizing muscles are activated to improve joint stability reducing stress and risk of injury.
Incorporated Shock Active Silicone Pad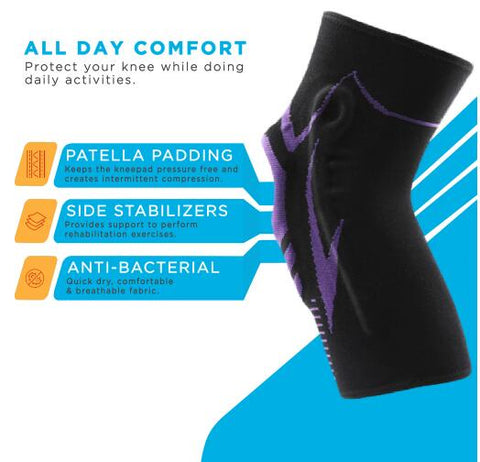 Support to perform exercises
-----------------------------PERFECT FOR-------------------------------------
Wide Range of Uses
Helps improve performance during sports or everyday activities supporting the movement of the knee. Great for running, basketball, soccer, football, golf, cycling, tennis, hiking, volleyball, skiing, weight lifting, biking and much more.
Treatment of
Strains
Tendinitis
Swelling
Pain
Jumpers knee
Runner's knee
Feelings of instability
Lateral meniscus tear
Arthritis
---------------------------------SIZE CHART------------------------------------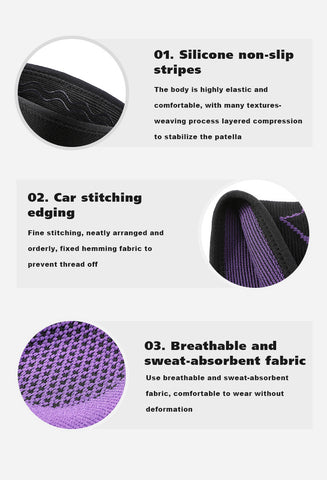 100% Money Back Guarantee
Order right now with confidence! Try it out for 30 days and if it doesn't work for you, you'll get your money back! There's absolutely no-risk in giving it a try. No questions asked, you can get your money back!